Timetable changes from 30th August
9 months ago Tue 25th Aug 2020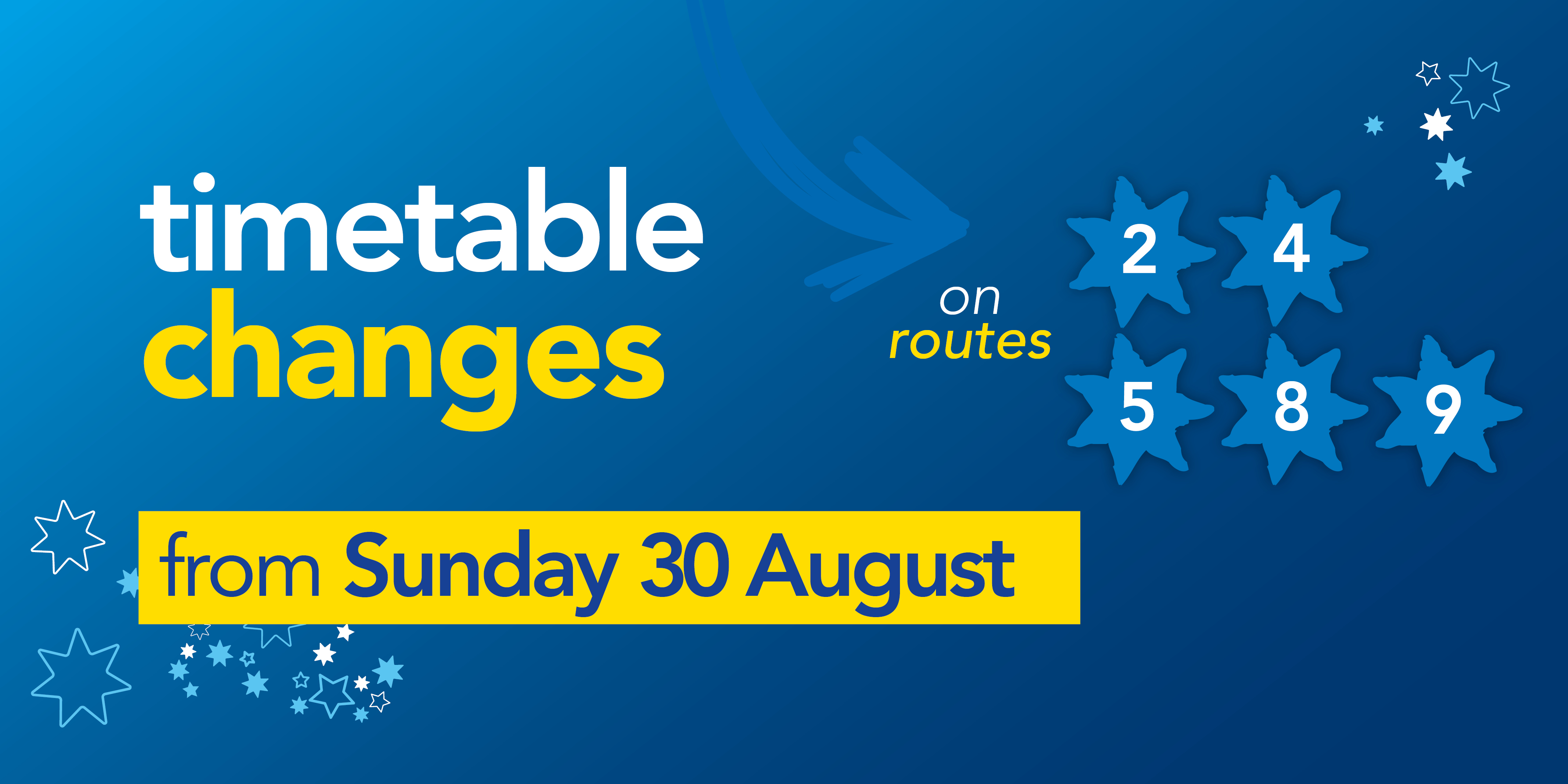 From Sunday 30th August, there are some changes taking place. Take a look at what is changing below.
Please note there will be a number of additional school buses which will run on top of our regular network. Due to social distancing, we would ask students to use the dedicated school buses as much as possible to maximise space on our normal network buses. If you are a student or a parent, please read this article before travelling for the latest information.
We are looking forward to welcoming you back on board to visit your favourite spaces and work places.
As always, please remember to adhere to government advice when travelling. Don't forget your face covering which is compulsory, unless you are exempt on medical grounds by law. To keep our drivers safe, please consider paying by contactless and our mobile app where you can instead of cash.
Changes from Sunday 30th August
Route
Change

1645 from Winchester is retimed to 1650 and the 1655 is withdrawn.
Additional college buses numbered 801 for Peter Symonds will run.
View 801 timetable

An earlier morning bus will run at 0456 from Eastleigh to Southampton and at 0530 from Southampton to Fair Oak. There will be changes to bus times from Southampton between 0730 and 0800.
Additional school buses for St George's students numbered 512 and additional college buses for Barton Peveril students numbered 682 and 692 will run.
View 512 timetable
Visit Barton Peveril page for dedicated college timetable information

Most journeys on Mondays to Fridays have new times.
Additional school buses for Mountbatten students numbered 504 and additional school buses for Romsey students numbered 514 will run.
View 504 timetable
View 514 timetable

Small tweaks to the timetable with some journeys now leaving 5 minutes earlier. 5A and Wellow journeys are withdrawn and replaced by a dedicated 605 service for Barton Peveril students only.
Visit Barton Peveril page for dedicated college timetable information

Returned to Pre-Covid timetable.
Please note this route changes on Sunday 6th September.
Additional 706 school buses for Priestlands School will run.
View 706 timetable

Some morning buses on B*8 will run slightly earlier with some evening buses on B*9 running slightly later.
B*8 will no longer serve Applemore College - students should use the 538 and 539 school buses.
View 538/539 timetable

Some morning buses on B*8 will run slightly earlier with some evening buses on B*9 running slightly later.
Additional 509 school buses for Applemore College will run.
View 509 timetable
The Guernsey Close journeys running on Tuesday to Fridays are retimed and will run as far as Lordshill Centre only.
Please connect here for General Hospital, Shirley and the City Centre. Additional 517 school buses for St Annes Catholic School will run.
View 517 timetable
35

The Schoolday only journeys at 0814 from Ampfield to Romsey School and the 1455 from Romsey to Ampfield will not be reinstated but will be replaced by a dedicated school bus number 635 instead.
View 635 timetable