Reduction in services from Sunday 24th January
3 months ago Tue 19th Jan 2021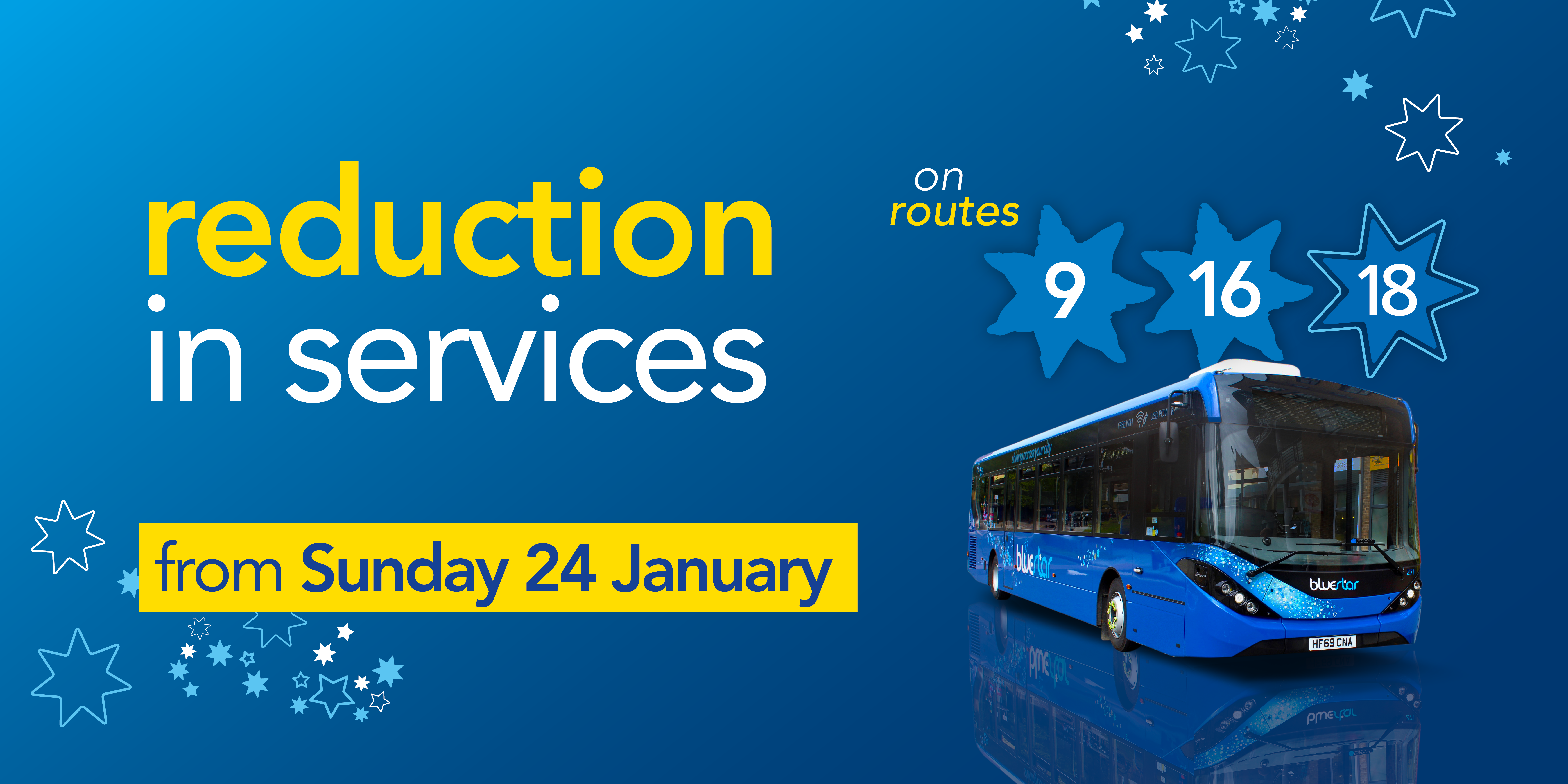 Due to the ongoing coronavirus situation and the restriction of movement, we will be adjusting some of our bus timetables from Sunday 24th January.
Routes that will be running to a revised timetable
| | | |
| --- | --- | --- |
| Route | Summary of changes | Timetable |
| Bluestar 9 | Reduces in frequency from every 20 minutes to 30 minutes during the day | View |
| Bluestar 16 | Reduces in frequency during peak times from every 10 minutes to 15 minutes | View |
| Bluestar 18 | Reduces in frequency from every 8 minutes to 10 minutes during the day | View |
| U9 | Switches to a School Holiday timetable, which means the bus at 0722 from Townhill Park will run at 0729 instead | View |
Please note that any routes not listed will still be running to their current timetables. All other timetable information can be found on the Timetables & Maps page.
As always, please remember to adhere to government advice when travelling. Don't forget your face covering which is compulsory, unless you are exempt on medical grounds by law. To keep our drivers safe, please consider paying by contactless and our clickit2ride mobile app where you can instead of cash. Please remember to practice social distancing at all times. We also encourage customers to use our on board hand sanitisers, and to sit in the window seat when travelling.
From Monday 25th January 2021, Hampshire County Council will temporarily be allowing customers to use their concessionary passes on any days and at all times. This will enable customers to get to early morning vaccination appointments and to travel at quieter times for essential journeys such as food shopping.
We would like to thank all our customers for their patience during this time and commend our front-line colleagues who are all doing a fantastic job in difficult circumstances.