Christmas & New Year bus times
10 months ago Fri 13th Nov 2020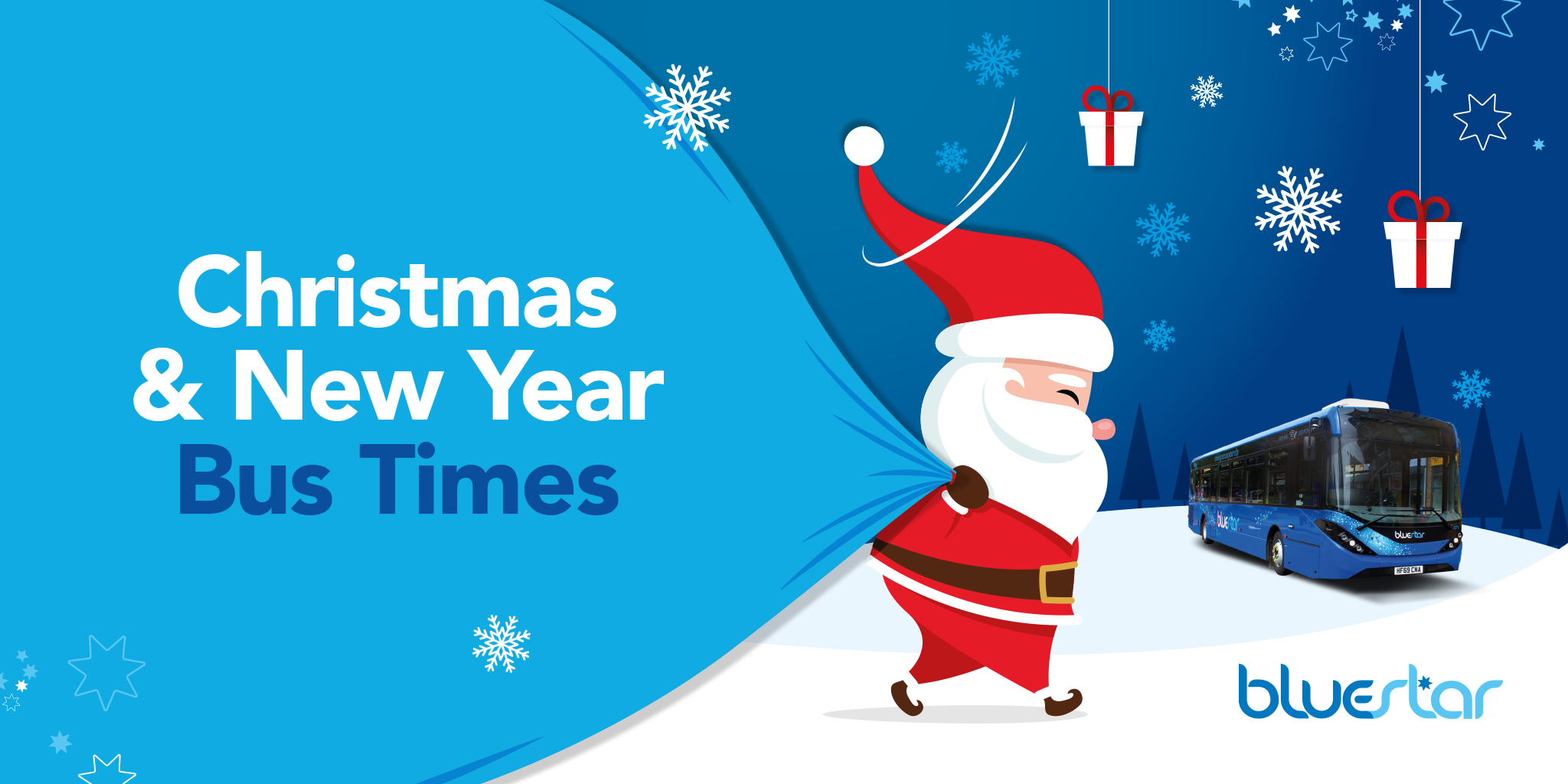 Despite the year we've had, it's beginning to look a lot like Christmas, and we want to make sure you make the most of the festive period! To help you plan your days out, get to work or go out with friends safely, here is a summary of how our services will be running over Christmas and New Year.
The Bluestar 1X and the Bluestar 18X will be running to special timetables on Christmas Day, and we will continue to run as many of our other services as possible across the festive period to keep you connected with loved ones.
See the Unilink website for details on Unilink services over Christmas and New Year.
Government advised local and national restrictions may change and we may need to amend our services at short notice. We will endeavour to keep you updated using our website and social media.
Summary of services
Monday 21st December 2020

A normal Monday service will operate on all routes

Tuesday 22nd December 2020

A normal Tuesday service will operate on all routes

Wednesday 23rd December 2020

A normal Wednesday service will operate on all routes

Thursday 24th December 2020 - Christmas Eve

A normal Thursday service will operate on all routes

Friday 25th December 2020 - Christmas Day

Merry Christmas!

Bluestar 1X and Bluestar 18X will run to special timetables.

No other services will run on Christmas Day.

Bluestar 1X - View timetable
Adult single - £4, return £6.
Child single - £3, return £5.

Bluestar 18X - View timetable
Adult Adult single - £3, return £5.
Child single - £2, return £3.50.

All period and concessionary passes are valid on Christmas Day.

Saturday 26th December 2020 - Boxing Day

A normal Sunday service will operate on all routes except the Bluestar 6 which will not run

Sunday 27th December 2020

A normal Sunday service will operate on all routes

Monday 28th December 2020 - Bank Holiday

A normal Sunday service will operate on all routes

Tuesday 29th December 2020

A Saturday service will run on all routes with the following exceptions:

A normal Tuesday service will operate on routes 35, 36, T3, T4, X7 & X7R

There will be some extra early morning journeys on routes Bluestar 5, Bluestar 9 and Bluestar 12- see below for exact details

Wednesday 30th December 2020

A Saturday service will run on all routes with the following exceptions:

A normal Wednesday service will operate on routes 35, 39, H1, H2, X7 & X7R

There will be some extra early morning journeys on routes Bluestar 5, Bluestar 9 and Bluestar 12- see below for exact details

Thursday 31st December 2020 - New Year's Eve

A Saturday service will run on all routes with the following exceptions:

A normal Thursday service will operate on routes 35, 36, T3, T4, X7 & X7R

There will be some extra early morning journeys on routes Bluestar 5, Bluestar 9 and Bluestar 12- see below for exact details

Friday 1st January 2021 - New Year's Day

Happy New Year!

Special timetables operate on the following routes only:

No other buses will be running on New Year's Day

Saturday 2nd January 2021

Normal timetables resume
Extra early morning journeys - 29th, 30th & 31st December
On Tuesday 29th, Wednesday 30th and Thursday 31st December, a normal Saturday timetable will run on most services. Additionally, routes Bluestar 5, Bluestar 9 and Bluestar 12 will also have some earlier journeys as listed below:
Bluestar 5
07:05 Eastleigh to Romsey
07:45 Romsey to Eastleigh
Bluestar 9
05:27 Langley to Southampton
Bluestar 12
05:55 Calmore to Southampton
06:25 Southampton to Calmore
Travel shop and customer services
Our travel shop in Bargate Street and customer services team will be open as follows:
| | | |
| --- | --- | --- |
| Date | Travel Shop | Customer Services |
| Monday 21st December 2020 | 0900 - 1700 | 0830 - 1700 |
| Tuesday 22nd December 2020 | 0900 - 1700 | 0830 - 1700 |
| Wednesday 23rd December 2020 | 0900 - 1700 | 0830 - 1700 |
| Thursday 24th December 2020 - Christmas Eve | 0900 - 1300 | 0830 - 1300 |
| Friday 25th December 2020 - Christmas Day | Closed | Closed |
| Saturday 26th December 2020 - Boxing Day | Closed | Closed |
| Sunday 27th December 2020 | Closed | Closed |
| Monday 28th December 2020 | Closed | Closed |
| Tuesday 29th December 2020 | 0900 - 1700 | 0830 - 1700 |
| Wednesday 30th December 2020 | 0900 - 1700 | 0830 - 1700 |
| Thursday 31st December 2020 - New Year's Eve | 0900 - 1500 | 0830 - 1500 |
| Friday 1st January 2021 - New Year's Day | Closed | Closed |
| Saturday 2nd January 2021 | Closed | Closed |
| Sunday 3rd January 2021 | Closed | Closed |
| Monday 4th January 2021 | 0900 - 1700 | 0830 - 1700 |