Help combat air pollution this Clean Air Day
1 month ago Tue 15th Jun 2021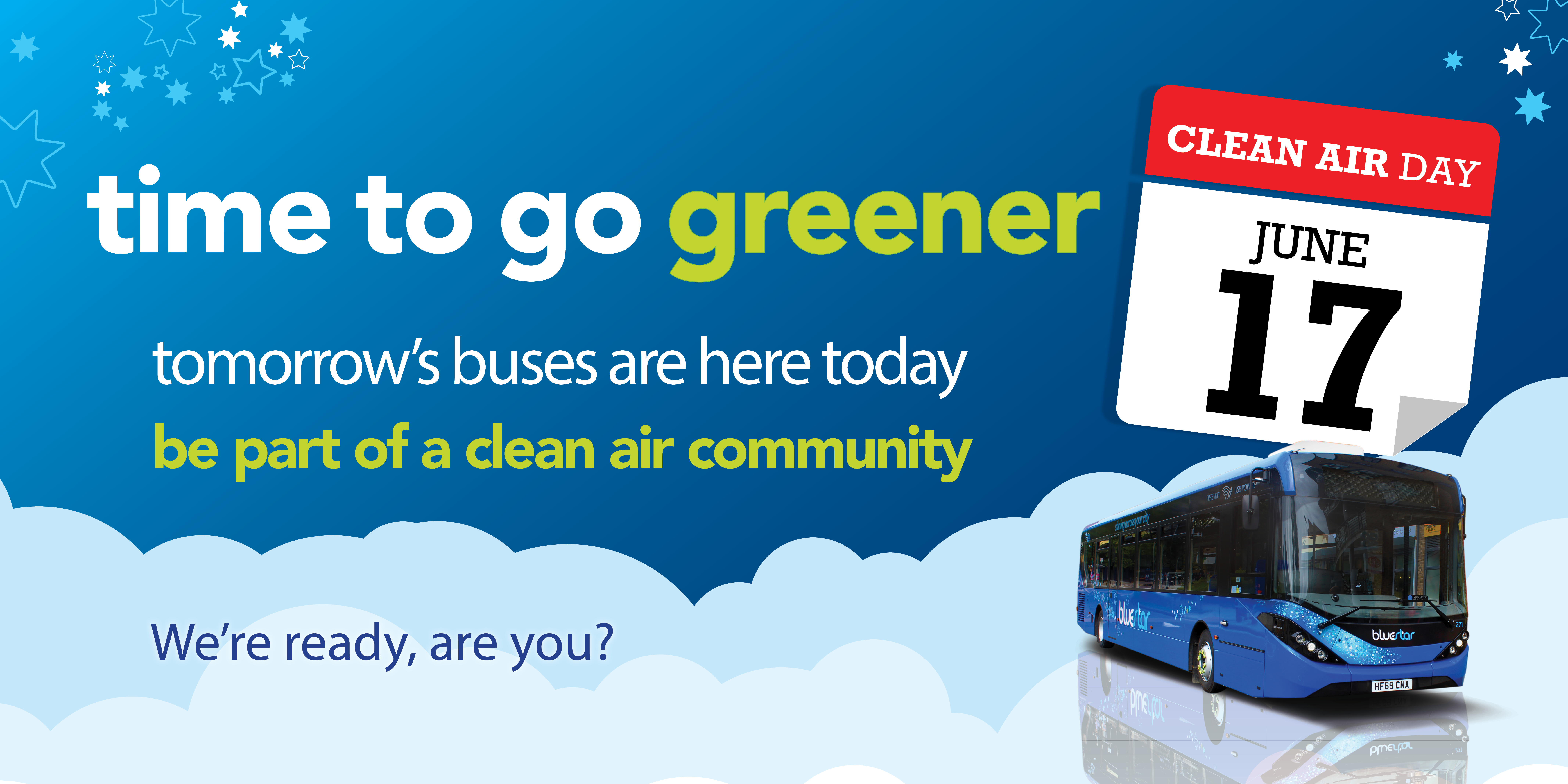 On Thursday 17 June, it is Clean Air Day. We are urging people in Southampton to leave their cars at home and travel by sustainable transport instead.
"We are committed to helping improve the quality of air we breathe in Southampton, and we have been working on this in a number of ways over recent years - from investing in a new fleet of greener vehicles and installing solar panels on our vehicles to trialling the World's first air filtering bus," said Andrew Wickham, Bluestar managing director.
"Even though so called 'Freedom Day' has been postponed, there are still plenty of reasons for people to travel across Southampton. Offices, shops, bars, restaurants and tourist attractions are all open for business, and we are seeing an increasing number of passengers on board our buses.
"Bus travel has changed beyond recognition over recent years, and those who haven't travelled with us recently will be amazed at the enhancements we've made.
"Our new buses have more comfortable seating, USB charging points for smartphone and tablet users, accept mobile phone payments, as well as contactless.
"We have also recently installed 'Tap On, Tap Off' technology on-board. Our customers can simply tap their card or mobile device on the ticket machine with the driver - and then tap off via the new special electronic reader when they leave. The system charges either for a single fare, or for a reduced priced dayrider - depending on how many times they have travelled within a day.
"In addition to all this, all our new buses sport the very latest Euro 6 low emissions engines, If more people choose to leave their cars at home and travel with us instead - on Clean Air Day and moving forwards - we could make a real impact in helping to improve the air quality in Southampton."
Bluestar recently gave people in Southampton a chance to take a glimpse into the future - by bringing a double decker electric bus demonstrator to the city.
"Now is an excellent time to look at new ways to help lower emissions across the region," added Andrew. "Buses - especially electric buses - are the perfect solution for this. We hope to bring them to Southampton over the coming years."
You can also use our new app's journey planning section to see how much carbon dioxide you are saving if you hop on one of our buses instead of drive a car.
For more information about Clean Air Day, please go to the website: https://www.cleanairday.org.uk.