Flying Santa 2019
10 months ago Tue 12th Nov 2019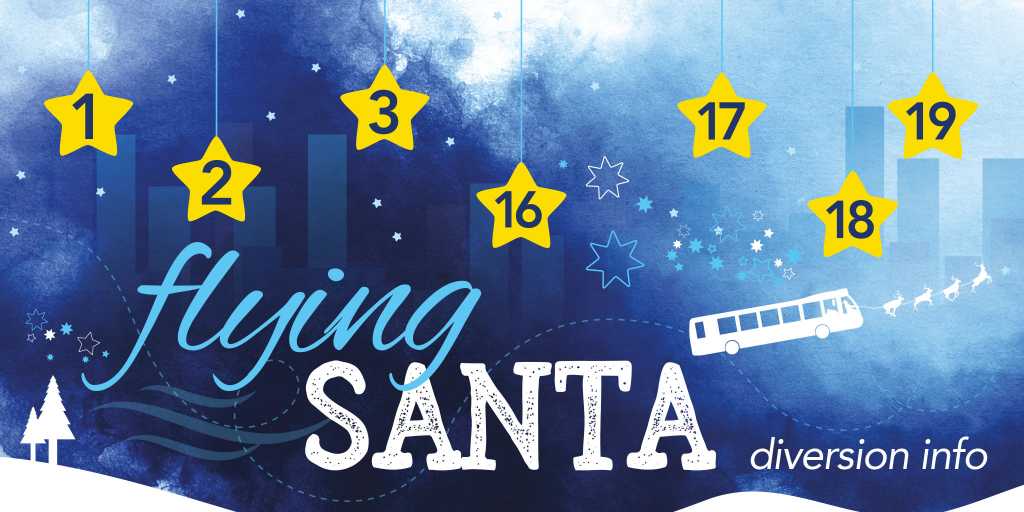 Flying Santa returns for twice-daily flights across the Southampton skyline in November and December 2019.
For safety reasons, Bargate Street / Hanover Buildings will be closed from 4:30-8pm Monday-Saturdays and 3:30-7pm on Sundays whilst the flights take place, meaning many of our services will need to divert.
Our drivers have been asked to divert/use the alternative stops for the entire closure time, even if the road closes late or reopens early. This is to minimise confusion regarding which stop to use.
From Friday 15th November up to and including Monday 23rd December, our buses will divert as follows.
Bluestar 1 & 2:
Inbound buses will terminate at West Quay.
Outbound buses will then start at Above Bar Street stop AC/AD.
No buses will serve Hanover Buildings Stop CU.
Buses will not use a temporary stop outside Bella Italia as they have in previous years. Please use Above Bar Street stop AC / AD.
Bluestar 3, 16 & 18:
Bluestar 3 & 16 inbound and Bluestar 18 from Millbrook will run as normal to Vincents Walk then divert to Castle Way, West Quay Stop BJ/BI, where customers can board/alight. Buses will then start from there and proceed ahead onto Portland Terrace for normal route towards Bitterne.
No buses will serve Bargate Street Stop BL.
Bluestar 17 & 19:
Between Bernard Street and Vincents Walk, buses will run via Queensway and will be unable to serve the Holyrood Church or Castle Way West Quay BJ bus stops, in both directions. Your nearest stops are on Bernard Street at Oxford Street, or Vincents Walk.
Please note this closure and diversion will also be in force between 9pm-1am on Friday 27th December so that the high-wire structure can be safely removed.
We apologise for any inconvenience this may cause.